Post by Abrac on Sept 11, 2018 12:26:00 GMT
I don't know if this has been written about before but I don't recall reading anything so I thought I'd share. It involves the Fool and the three parts of soul.
Anyone who has read Waite's commentary on the Zohar,
The Secret Doctrine In Israel
, can't help coming away with the distinct impression that much of the Waite-Smith symbolism was influenced by it. I'll post something from Waite's book and let the reader decide.
"I proceed therefore to the parts or divisions of the soul. It is taught in a summary way that man is composed of three things: Life, or
Nephesh
; Spirit, which is
Rua'h
or
Haïâ
; and Soul, that is,
Neshamah
. By this he becomes "a living spirit"—a term, however, which is applied more especially to
Neshamah
. They are called also three degrees, or vital spirit, intellectual spirit and soul proper.
Nephesh
is the fallible part, for sin is suggested neither by
Rua'h
nor
Neshamah
. It is said elsewhere and more plainly that the vital spirit sins, but not the soul. The three degrees are superposed one upon another in the order already given, and
Neshamah
is attached to God, but all these are not the imprescriptible [impossible to remove] possession of every person in life; the higher parts are earned by serving the Master."—
The Secret Doctrine In Israel
, pp. 157-158.
Here are two things I've observed about this:
1. The three parts in their order from highest to lowest are: 1) Neshamah, being that part closest to God; 2) Rua'h, the part in the middle; 3) Nephesh, the part closest to the physical body.
2. All three parts make up the soul at the time of its incarnation but the highest part, Neshamah, is only realized by dedication to God.
It occurred to me that Waite may have intended to illustrate the three parts of the soul; in other words, the sun, the Fool, and the dog all represent different aspects of the soul.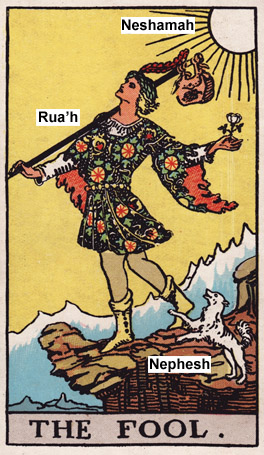 In the Sun card, the child (Rua'h) wears a feather similar to that of the Fool. In that card both a sun (Neshamah) and an animal (Nephesh) are pictured along with the child. Waite's commentary in the
Pictorial Key
says: "When the self-knowing spirit [Neshamah] has dawned in the consciousness above the natural mind [Rua'h], that mind in its renewal leads forth the animal nature [Nephesh] in a state of perfect conformity." In the Fool card, the Fool aspires to Neshamah; in the Sun card he has realized it.