Post by Abrac on Jul 24, 2018 13:43:45 GMT
There's something about the Devil which has always been a bit of a mystery; but I believe a good explanation for it can be found.
In his
Pictorial Key
description Waite says: "At the pit of the stomach there is the sign of Mercury"; but one is hard-pressed to find anything in the image that could be the sign of Mercury. To make sense of this one has to know Waite's source for this image and also something about his personal style. His source was Lévi's Sabbatic Goat from
Dogme et Rituel
. The caduceus of Hermes (Mercury) can be seen rising from the crotch area of the figure. This is what Waite's referring to; however, in his Devil image it's concealed by a tassle of hair.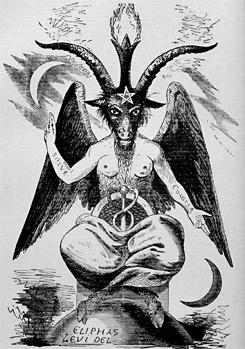 When Waite say "pit of the stomach" he's referring to the very lowest part of the stomach where it comes to a point; this is where the hair can be seen to originate.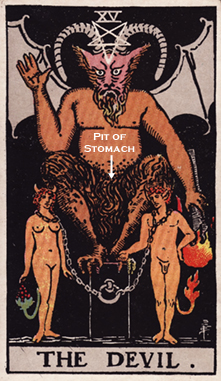 I wouldn't call Waite a sexual prude but he was modest in his descriptions of such things. A good example of this can be found in his Fellowship of the Rosy Cross Practicus Initiation Ritual. At one point he makes reference to a diagram which—from the way he describes it—is identical to the Frontispiece from his
The Holy Kabbalah
. The description in the ritual says:
"His head rests upon Daath, which is Supernal Knowledge; the arms stretch to Chesed and Geburah, while Tiphareth is over the region of the heart; and
that which in the purity of the Secret Tradition is termed an organ of holiness is veiled by the Sephira Yesod
."
He refers to the sex organ as the "organ of holiness" and says it is veiled by Yesod. I believe he's done something similar in the Devil; the caduceus of Mercury is implied but not shown. Lévi, in his description of the Goat, says: "The lower part of the body is veiled, portraying the mysteries of universal generation, which is expressed solely by the symbol of the caduceus." Waite may have been following Lévi's lead. By that I mean Waite's image also represents a concealed mystery, the only difference being Waite's image conceals everything. He may also have felt that showing the caduceus would've offended too many of his potential customers. Those familiar with Lévi, or who had some background in the secret doctrine, would no doubt have understood what was meant by the "sign of Mercury."